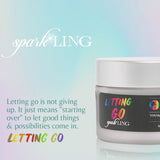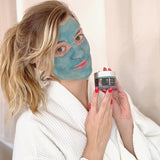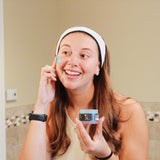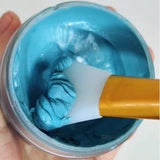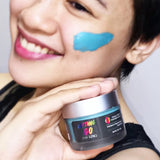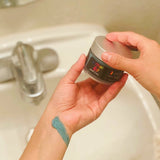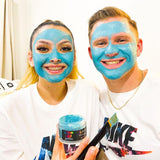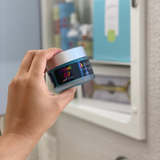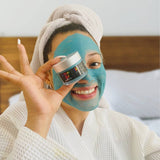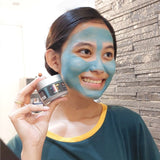 Volclayno Detox Mask "Letting Go"
Skin care confidence: Volcanic ash is rich in minerals & anti-oxidant properties, infused with charcoal to detox impurities and excess sebum trapped in pores. Lemon peel & Apple extract clarifies & renews complexion.
Cultivate your inner spa: Detox the unwanted, the unhealthy, the unnecessary, the disempowering voice, the blockage, the no I can't to allow room for greater opportunities and new possibilities.
2 OZ / 57 G
Key Ingredients:
Kaolin is one of the mildest clays, is able to absorb this excess oil without stripping your skin and causing dryness. So kaolin clay benefits dry and sensitive skin types. Its skin-soothing properties make it perfect to calm skin that is inflamed or irritated.
Bentonite's adsorbent power may be helpful in treating acne breakouts and oily skin. The clay can help remove sebum, or oil, from the skin's surface, and it may also have a calming effect on inflamed breakouts.
Glycerin acts as a humectant, which is a substance that allows the skin to retain moisture. It can increase skin hydration, relieve dryness, and refresh the skin's surface. It's also an emollient, which means it can soften skin.
Charcoal can absorb toxins in your body, a charcoal face mask can help draw impurities and dirt from your skin. Reduces acne breakouts. An accumulation of sebum (skin oils) and bacteria can clog your pores, resulting in breakouts.
INGREDIENTS: AQUA, KAOLIN, BENTONITE, GLYCERIN, CAPRYLIC/CAPRIC TRIGLYCERIDE, GLYCERYL STEARATE, MAGNESIUM ALUMINUM SILICATE, CARTHAMUS TINCTORIUS (SAFFLOWER) SEED OIL, CETEARYL ALCOHOL, MICA, TITANIUM DIOXIDE, BENZIMIDAZOLE DIAMOND AMIDOETHYL UREA, CARBAMOYL PROPYL POLYMETHYLSILSESQUIOXANE, STEARYL ALCOHOL, CETEARETH-20, BUTYROSPERMUM PARII (SHEA) BUTTER, LEVAN, DECYL GLUCOSIDE, OLEA EUROPAEA (OLIVE) LEAF EXTRACT, PHENETHYL ALCOHOL, ZIZIPHUS JUJUBA SEED EXTRACT, CITRIC ACID, ASCORBIC ACID, SANTALUM ALBUM (SANDALWOOD) WOOD EXTRACT, OCIMUM BASILICUM (BASIL) FLOWER/LEAF EXTRACT, CITRUS LIMON (LEMON) PEEL EXTRACT, PYRUS MALUS (APPLE) FRUIT EXTRACT, ELETTARIA CARDAMOMUM SEED EXTRACT, RUBUS IDAEUS (RASPBERRY) FRUIT EXTRACT, LAVANDULA ANGUESTIFOLIA (LAVENDER) FLOWER/LEAF/STEM EXTRACT, CUCUMIS MELO (MELON) FRUIT EXTRACT, ROSE EXTRACT, IMPATIENS BALSAMINA FLOWER EXTRACT, CUCUMIS SATIVUS (CUCUMBER) FRUIT EXTRACT, CHARCOAL POWDER, DISODIUM EDTA, XANTHAM GUM, CAPRYLYL GLYCOL, IRON OXIDES, FERRIC FERROCYANIDE, PHENOXYETHANOL, ETHYLHEXYLGLYCERIN, BLUE 1
Directions
: Apply to the entire face and let dry for at least 10 minutes.  Rinse off with warm water.  Use one to three times a week.
Total 5 star reviews: 4
Total 4 star reviews: 0
Total 3 star reviews: 0
Total 2 star reviews: 0
Total 1 star reviews: 0
100%
would recommend this product
Gentle on your skin!

First time detox mask buyer and user. I was hesitant - but shouldn't have been! I have super sensitive skin, and my breakouts have been significantly worse as a result of wearing a facemask for 8+ hrs/day. My acne is typically mild, but my chin has been incredibly broken out from the facemask. I've only used this Volclayno Detox Mask twice now and I've already noticed a big difference! My face is less oily, my skin is much smoother, and my mask acne is **** near nonexistent already! I've used it once/week since I received it. I recommend putting on two layers for easier peeling later. Doesn't hurt to peel at all, and the included applicator makes it very easy to apply. Super pleased with this product and quick results.

Entirely worth the money.

I have already used several black mask before, still a little sensitive skin and I worried about putting a new product on my face. But this mask is Right and Gentle. This product has a blackhead remover. I've used this black mask couple of months, the mask dries relatively fast so no waiting around. It peels off smoothly without ripping. The adhesion is strong but not painful so it does the job without the irritation. Didn't hurt or leave my skin with any redness. It did take a little over 20 minutes, but after I peeled it off my skin felt nice and I was able to see the gunk from my pores on the mask so satisfying. It is such a great use in cleansing out pores. I definitely purchase this again. It is such a great product with amazing results! After using it, it left my face and skin feel super smooth and softer than my face before. Pretty amazing!!

Great for daily use!

This product is really doing great things for me. I've managed to find some kind of facial product that helps fix almost every known issue I've got. Most recently, I was super happy to finally find products that both tighten my skin and shrink my pores. Problem is, I have some GIANT pores, particularly on my nose. So, unless I can find a detox mask or something to get all the gunk out of there, I'm stuck with them.

The first time I tried this Volclayno Detox Mask, I used just enough to coat the problem areas of my face, like my nose, right between my eyebrows and my chin. Then, I followed the instructions and let it stay for a fair amount of time on my face. That was the secret, at least for me. I did this daily for a week straight and REALLY noticed that my pores were clearing out. Combined with pore-shrinking and skin tightening products, I feel like I've finally got a handle on the giant pores that have driven me crazy for most of my adult life. The product name says it all. Letting Go! Letting Go of all the bad times with other products!

What is your age?

55 - 64

What is your skin type?

Dry
Reviews Loaded
Reviews Added