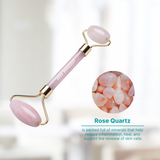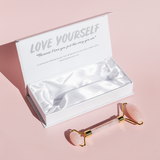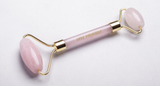 Love Yourself Rose Quartz Gemstone Roller
LIMITED EDITION!
A handheld facial tool that is dual-ended with Authentic Rose Quartz Gemstones. This stone is said to help unclog the Heart Chakra, letting go of stress and negativity that can cause tension in the muscle, resulting in fine lines and wrinkles. 
This type of stone is also good for the heart and circulation, bringing oxygen to the skin which improves tone, luster, and glow. It is used to influence a softer, more radiant complexion, and reduce the appearance of wrinkles.

Rose quartz is packed full of minerals, including silicium, magnesium, iron, sodium, and oxygen. It has an amazing ability to reduce inflammation, heal, and support the renewal of skin cells.
Tightening and toning the facial muscles
Improving product absorption (from your topical skin care regimen)
Addressing puffiness and wrinkles
Increasing circulation through stimulation of the skin
Contouring the facial structure
Tightening pores via the naturally cold gemstones
 Apply a moisturizer or LING Solution over the entire face. Roll the roller starting from the center of your neck, rolling upwards and outwards. Continue this motion on each section of your face.