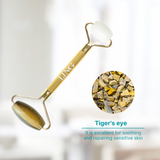 LING Tiger's Eye Facial Roller + White Jade Eye Roller
Tiger's Eye
This powerful stone is excellent for soothing and repairing sensitive skin, while improving self-confidence and inner joy. It has a calming and grounding affect, helping bring stability and awareness. It's also known as the "all-seeing, all-knowing eye", bringing good fortune, and balance to your skin and positive energy.
This type of gem helps you to release fear and anxiety and aids harmony and balance. It stimulates taking action, and helps you to make decisions with discernment and understanding, and unclouded by your emotions.
White Jade (Eye roller)
This polished smooth stone gives a cool, soothing effect that helps tone and de-puff skin, increases blood circulation and diminishes the appearance of fine lines and wrinkles.
White Jade is a gemstone with powerful healing energies that have the ability to purify the energy of your heart.
Tightening and toning the facial muscles
Improving product absorption (from your topical skin care regimen)
Addressing puffiness and wrinkles
Increasing circulation through stimulation of the skin
Contouring the facial structure
Tightening pores via the naturally cold gemstones
Apply a moisturizer or LING Solution over the entire face. Roll the roller starting from the center of your neck, rolling upwards and outwards. Continue this motion on each section of your face.