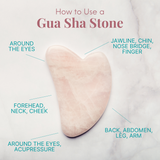 Gua sha is an Asian beauty practice of facial massages to lighten tension, improve circulation and leave skin glowing. The gua sha gemstone tool relieves facial and jaw tension, promotes a brighter complexion, and instantly lifts and contours the face. Rose Quartz is known for its calming properties, reflection, and self-love.

The Gua Sha tool works great on its own, but for maximum benefit, use it with our Serums & creams. With regular use, Gua Sha facial massage has been known to:
Smooth fine lines
Lift brows
Reduce dark circles & puffiness
Lift & firm jaw area
Firm face contour
Relieve neck tension
Start with a clean face and prep skin with a facial oil or serum.
Keep the tool flat against the face and begin with the forehead. Scrape in an upwards motion from the eyebrows to the hairline.
Move to the cheeks and scrape in an outwards motion starting from the crease of the nose until the ear.
Move to the jawline and use the end of the Gua Sha tool with the two curves. Start from the chin and scrape until the ear. Gently massage the Gua Sha tool into the ear to release tension.
For the under-eye area, very gently scrape the Gua Sha from the inner corner of the eye outwards to the temple. Because the area is so sensitive, it is important to only apply light pressure.