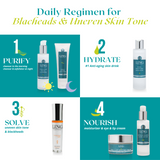 Uneven Skin Tone & Blackheads Daily Regimen
No matter how well you take care of your skin, chances are high you'll deal with an uneven skin tone at some point in your life.
Excessive/unprotected sun exposure is one of the major causes of an uneven skin tone.  While Blackheads are clogged bumps on the skin that fill with excess oil and dead skin. 
Purifying Cleanser (cleanse morning) cleanses and refines skin without aggravating the skin barrier for a soft, radiant appearance. Purifying Cleanser + Triple Action Exfoliator (cleanse & exfoliate evening) after cleansing, exfoliating your skin will help clear dead skin cells while removing the dirt, oil, and other impurities that accumulate on your skin throughout the day. It also encourages cell turnover, which can help improve the appearance of dark spots and other discolorations.
Dual Moisture Emulsion hydrates the skin, removes any leftover dirt or oil, and helps prepare the skin for the rest of your routine. The right formula can provide additional benefits, as well.
You can address stubborn spots with brightening skincare treatments, like Vitamin C Serum. This potent serum features activated C and Centella Asiatica, which work in tandem to help improve skin tone and texture. It's clinically demonstrated to visibly reduce dark spots and discoloration on all skin types and tones.
Oxygen Plasma Glow Lotion t

his light & silky moisturizer has squalane and hyaluronic acid to reduce the appearance of skin discolorations, like age spots. The formula provides lasting 24-hour hydration for a smoother, brighter appearance.
+ Eye & Lip Soothe Cream address under-eye discoloration. This daily eye treatment contains Vitamin A and Vitamin E to help tone skin and provide anti-oxidants, and pathenol (Vitamin B5) maintains natural skin moisture. + Sunscreen (in the morning if going out ) sunscreen is, hands down, the most crucial skin-care product. It's "of utmost importance as part of your year-round regimen".
Bundles:

Day Time: Purifying Cleanser - $58.00
Night Time: Triple Action Exfoliator - $60.00
Dual Moisture Emulsion - $88.00
Hi-Vitamin C 12% Serum - $115.00
Oxygen Plasma Glow Lotion - $65.00
Eye & Lip Soothe Cream - $72.00