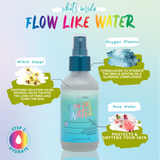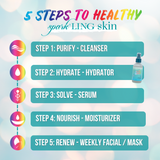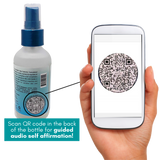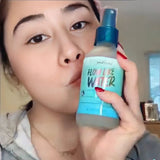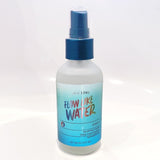 Soothing Oxygen Daily Face Hydrator "Flow Like Water"

Soothing Aloe Vera is a lightweight face hydrator formulated with Aloe Vera & Witch Hazel to soothe, hydrate & regulate oil production and Oxygen Plasma revitalizes a glowing complexion.
Soothing Oxygen Hydrator is formulated not only to hydrate the skin but deliver a variety of anti-inflammatories and botanical benefits. This hydrator also delivers antioxidant properties that encourage the production of collagen and elastin, thus reducing the appearance of fine lines and wrinkles and increasing skin's firmness and elasticity, a glass of water for your skin!
'Cultivate your inner spa' by scanning the QR code in the back of the bottle to listen to daily affirmations to increase confidence, inner strength and improve your self image.  What you feel within is what is manifested outwardly. Owning and honoring your inner self will translate externally. Guided meditations and affirmations are set to relaxing music and spoken in a soothing tone, feel free to listen to while doing your skincare routine morning & evening to cultivate your inner spa.
120 ML / 4 FL OZ


Key Ingredients:
HAMAMELIS VIRGINIANA (WITCH HAZEL) - contains many compounds with potent anti-inflammatory properties, including gallic acid and tannins. It also contains antioxidants that help prevent widespread inflammation and neutralize free radicals, which are disease-causing compounds that can build up in your body. Therefore, witch hazel could have far-reaching benefits and may be useful in the treatment of inflammatory-related issues, such as acne, eczema, or psoriasis. Studies show that topically-applied witch hazel can effectively reduce inflammation and help soothe your skin.
ROSE WATER CONCENTRATE - Rose water has been used as a beauty product for thousands of years, so it's no surprise that it can improve your complexion and reduce skin redness. The antibacterial properties may help reduce acne. The anti-inflammatory properties can reduce skin redness and puffiness. It contains a number of powerful antioxidants, which can help protect cells from damage. One study found that these antioxidants had potential lipid peroxidation inhibitory effects. This provides powerful cell protection a result. Rose water has antiseptic and antibacterial properties that can help wounds heal faster. These properties can help clean and fight off infection of cuts and burns. They can also help cuts, burns, and even scars heal faster.
ALOE BARBADENSIS LEAF EXTRACT - commonly known as Aloe Vera, has been used for centuries for its health, beauty, medicinal, and skincare benefits. The studies also showed that aloe vera may be effective in helping reduce the appearance of psoriasis, dermatitis, frostbite, burns, and inflammation.
ANTHEMIS NOBILIS (CHAMOMILE) EXTRACT - has anti-inflammatory properties that may help soothe unhappy, irritated skin. Chamomile extract is popular in products for acne, eczema, and sensitive skin. Its antibacterial properties may help skin heal and help prevent acne. Chamomile has a gentle fragrant scent that can enhance the product experience without adding unnecessary ingredients. This is a nice bonus to this skin-soothing ingredient. 
INGREDIENTS: AQUA (WATER), HAMAMELIS VIRGINIANA (WITCH HAZEL), ROSE WATER CONCENTRATE, ALOE BARBADENSIS LEAF EXTRACT, PERFLURODECALIN, ANTHEMIS NOBILIS (CHAMOMILE) EXTRACT, POLYVINYLPYRROLIDONE (PVP), PHENOXYETHANOL, ETHYLHEXYLGLYCERIN
Directions:
Apply a small amount directly to skin with hands in gentle upward motions. Apply after cleansing day and night. Recommended for sensitive skin and combination to naturally oily skin.
Total 5 star reviews: 1
Total 4 star reviews: 0
Total 3 star reviews: 0
Total 2 star reviews: 0
Total 1 star reviews: 0
100%
would recommend this product
Very soothing & light

This essence is 5 thumbs up! I love how it absorbs very quickly in my face and does not leave any sticky feeling. It leaves my face hydrated all day long and even gives my make-up a glowy silky finish! Love this so much and will continue using it!
Reviews Loaded
Reviews Added