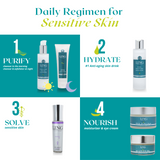 Sensitive Skin Daily Regimen
Common symptoms of having sensitive skin are if your skin is reactive, you sunburn easily & you develop rashes and patches of redness/dryness often. Sensitive skin refers to a range of conditions such as rosacea and eczema.
While many people can have a skin reaction & do not know what products to use, here are Ling Chan's hand-picked skincare items that are perfect to address these issues by following her 5 Simple Steps!

Any skin care routine should begin with a cleanser. The purifying cleanser is a gentle cleanser that won't strip your skin of essential oils. It glides gently over the skin's surface, lifting impurities, as it cleanses and hydrates—making it one of our best face washes for sensitive skin. Add to your nighttime regimen is the Triple Action Exfoliator, the best face scrub for sensitive skin and packed with skin-loving goodness with its triple combination ingredient which softens and smooths your sensitive skin. 
Like a tall glass of water for your skin, Dual Moisture Emulsion offers hydration for up to 72 hours and it's all because of this key ingredient: hyaluronic acid. Great for sensitive skin, this gentle substance restores and retains your skin's moisture levels, providing plumpness and hydration.
For sensitive skin, we recommend using Vitamin K provides instant and long-term relief from discomfort and starts reducing redness and inflammation on contact with the skin. It calms and soothes compromised skin and helps maintain the skin's moisture levels.
DNA Do Not Age Cream is infused with Peptides to create an innovative and potent anti-aging formula to reduce the appearance of fine lines and wrinkles. Its main ingredient is "Teprenone" which is recognized with a Nobel Prize for its ability to help skin appear healthier looking and younger-acting. + finish it off with Relite eye gel which is an advanced formula with Soy and Rice Bran Protein infused with Arnica Extract to brighten the eye area plus peptides that are excellent for boosting collagen activity
+ Sunscreen (in the morning if going out ) sunscreen is, hands down, the most crucial skin-care product. It's "of utmost importance as part of your year-round regimen.
Bundle:
Purifying Cleanser - $58.00
Triple Action Exfoliator - $60.00
Dual Moisture Emulsion - $88.00
VItamin K - $108.00
DoNotAge Cream - $105.00
Re-lite eye gel - $96.00