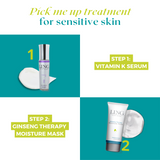 Sensitive Pick-me up Treatment
A treatment that leaves your skin glowing with minimum time! Includes a serum and mask. Excellent if you are short on time but feel your skin needs a little boost. This pick-me-up treatment focuses on solving sensitive skin problems!
Vitamin K+Ginseng Therapy Moisture Mask (1-3x a week for a quick fix)
How to use:
Step 1: Apply Vitamin K all over your skin
Step 2: Apply Ginseng Therapy Moisture Mask over the serum.

Leave on for at least 15-30 minutes and wash off. Leaving it on overnight will significantly enhance results.
Bundle:

Ginseng Therapy Mask - $58.00