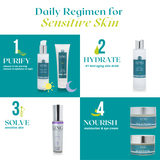 Sensitive Skin Customized Facial
Treat your skin the way you'd like it to be treated, with a weekly facial at home!
We each have distinct needs when it comes to skincare. Customized facials are tailored to meet all those needs, and more. Whether you need exfoliation, an acne treatment, moisture, deep cleansing, or a combination of these, a personalized treatment can address these issues for all skin types.
For this at-home facial, we are targeting SENSITIVE SKIN!
If you're worried about fine lines, wrinkles, or clogged pores but have sensitive skin, Triple Action Exfoliator might be your go to scrub. It's formulated to resurface congested skin by getting rid of any dead skin cells to improve the look of your skin. 
Along with a potent dose of Vitamin K, this contains several other skin-aiding actives. There's the squalane base, which provides a hydrating slip; it also contains jojoba oil, apricot extract for added antioxidant benefits that help reduce inflammation, strengthen the barriers into the skin.
When your inflamed skin craves a cooling sensation, reach for this Ginseng Therapy Mask. With soothing aloe vera, calming panax ginseng and glycogen that nourishes, and restores balance to the skin barrier.
Volclayno Detox Mask featuring a powerful blend of volcanic ash and charcoal, this detox mask whisks away impurities without stripping or damaging your skin. Detoxifying and exfoliating agents like bentonite and charcoal will make your skin feel tingly and clean as they get to work lifting away dead skin cells, dirt, and oil, for refreshed, clear skin and pores.
Bundle: 

Triple Action Exfoliator - $60.00
Ginseng Therapy Moisture Mask - $58.00
Volclayno Detox Mask - $58.00