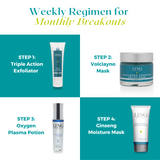 Monthly Breakout Customized facial
Treat your skin the way you'd like it to be treated, with a weekly facial at home!
We each have distinct needs when it comes to skincare. Customized facials are tailored to meet all those needs, and more. Whether you need exfoliation, an acne treatment, moisture, deep cleansing, or a combination of these, a personalized treatment can address these issues for all skin types.

For this at-home facial, we are targeting Monthly Breakouts!
Triple Action Exfoliator clears pores, exfoliates, and brightens for an overall healthy-looking glow. Volclayno Detox Mask detoxifies congested skin. Oxygen Plasma Potion is actually the key to this facial! When dealing with acne, you need oxygen in your skincare because it is known that bacteria cannot grow under oxygen! It has an innovative oxygenating molecule that instantly soothes and revives dull & damaged skin! Lastly, Ginseng Therapy Moisture Mask to soothe & give healthier + radiant skin.
Bundle includes:

Triple Action Exfoliator - $60.00
Volclayno Detox Mask - $58.00
Oxygen Plasma Potion - $125.00
Ginseng Mask - $58.00