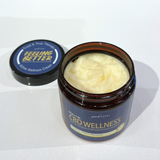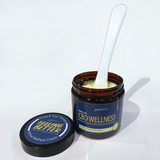 Emu Oil CBD Wellness Cream "Feeling Better"
Soothe. Relief. Recover.
Brand new: Our Emu Oil CBD Wellness Cream with Glucosamine & 1000 mg Broad Spectrum Hemp Extract is a superior CBD carrier oil containing Omega fatty acids to moisturize while delivering deep & effective wellness benefits to soothe, relieve muscular pain, and reduce inflammation.
'Cultivate your inner spa' by scanning the QR code on the back of the jar to listen to daily affirmations to increase confidence, inner strength, and self-healing. What you feel within is what is manifested outwardly. Owning and honoring your inner self will translate externally. Guided meditations and affirmations are set to relaxing music and spoken in a soothing tone, feel free to listen to it while applying the cream to cultivate your inner spa.

Ingredients:
Water, Emu Oil, Stearalkonium Chloride, Glycerin, Cetyl Alcohol, Caprylic/Capric Triglyceride, Glucosamine Sulfate, Dimethyl Sulfone, Glyceryl Stearate, Pregnenolone, Tocopherol, Rosemary (Rosmarinus Officinalis) Extract, Phenoxyethanol, Caprylyl Glycol, Cannabis Sativa Flower Extract
Directions: Apply cream to the skin as needed. For external use only. Can be used on the face & body.