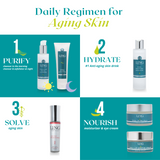 The natural aging process generally produces lines & wrinkles, crow's feet, age spots, dull skin, and other skin flaws. Although it is not possible to turn back time, the effects of aging on the skin can be slowed down and improved. Here is Ling's Anti-aging Skincare regimen for you to get youthful skin!
Purifying Cleanser 
(cleanse - morning)  this mild facial cleanser is best for all skin types! 
Purifying +

 
Triple Action Exfoliator 
cleanse and exfoliate 2-3x a week using this scrub that is formulated with tiny particles to help gently buff away dead skin cells from your skin, revealing brighter skin underneath.
Dual Moisture Emulsion
 is great to help revive and refresh skin, especially since it includes ingredients like Hyaluronic Acid (to lock in moisture into the skin), Ginseng (to improve skin's elasticity), and Squalane (to keep skin clear and healthy).
This Apple Stem Cellular Energy Serum is the Anti Aging Youth Boosting Solution! A potent State-of-the-art formulation designed to enhance skin's performance and revitalize a youthful & healthy complexion. It targets the appearance of wrinkles, fine lines & crow's feet.
DNA Do Not Age Cream is infused with Peptides to create an innovative and potent anti-aging formula to reduce the appearance of fine lines and wrinkles. Its main ingredient is "Teprenone" which is recognized with a Nobel Prize for its ability to help skin appear healthier looking and younger-acting. + finish it off with Eye & Lip Soothe Cream that has blends of herbal extracts and caffeine to give a firming effect to the eye area.
+

 
Sunscreen
 (in the morning if going out ) 
sunscreen is, hands down, the most crucial skin-care product. It's "of utmost importance as part of your year-round regimen".
Day time: Purifying Cleanser - $58.00
Nighttime: Triple Action Exfoliator - $60.00
Dual Moisture Emulsion - $88.00
Apple Stem Cellular Energy Serum - $168.00
DNA Cream - $105.00
Eye & Lip Soothe Cream- $72.00