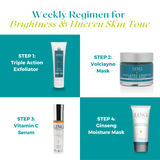 Uneven Skin Tone & Blackheads Customized Facial
Treat your skin the way you'd like it to be treated, with a customized weekly facial at home!
We each have distinct needs when it comes to skincare. Customized facials are tailored to meet all those needs, and more. Whether you need exfoliation, an acne treatment, moisture, deep cleansing, or a combination of these, a personalized treatment can address these issues for all skin types. 
For this at-home facial, we are targeting UNEVEN SKIN TONE AND BLACKHEADS!
Triple Action Exfoliator helps speed up the process of removing those dead skin cells, revealing brighter, smoother skin underneath. Volclayno Detox Mask helps break the proteins which act as a 'glue' that binds the dead skin cells together. Vitamin C Serum inhibits L-ascorbic acid that's used in the production of pigmentation or melanin, which makes it an effective lightning agent. Ginseng Mask gives healthier and radiant skin.
Bundles:

Triple Action Exfoliator - $60.00
Volclayno Detox Mask - $58.00
Vitamin C Serum - $115.00
Ginseng Mask - $58.00