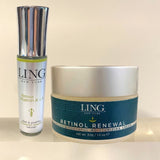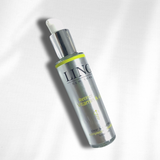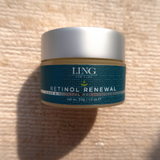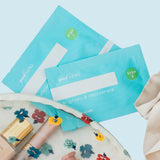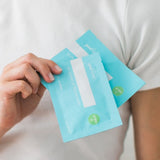 FALL-In-Love w/ Your Skin (Special Fall Set)
Begin your fall skincare rituals to repair your face from the damaging effects of summer sun exposure and protect your skin's moisture barrier from the elements of the fall season, such as dry air and wind. 
This season, we focus on the benefits & features of RETINOL. Retinol belongs to a group of vitamin A derivatives, known as retinoids. It is considered one of the best-known skincare ingredients on the market and it's the gold standard for anti-aging & brightening effects! 
Key Ingredients of Retinol are:
• Vitamin A - helps to decrease the effects of UV-induced skin damage and works to clear acne-related symptoms.
• Vitamin E - Derived from vegetable oils. tocopherol acts as an effective antioxidant, protecting skin from free radicals.
• Vitamin C - for lightening and provides antioxidant and anti-aging benefits.

Both Retinol serum & cream are packed with antioxidants, anti-aging, and blemish-busting properties. Excellent for refining skin texture, evening complexion, and diminishing appearance of fine lines and wrinkles.

Paired with our #1 Best Selling Anti-aging Hydrator + 1 FREE bonus set of our #1 At-home Instant DIY Oxygen Facial, you are all set!
• 1x Dual Moisture Emulsion (travel size) to give long-lasting hydration
• 1x Retinol Vitamin A, C + E Serum to stimulate collagen production and promote skin cell turnover.
• 1x Retinol Renewal Moisturizing Cream to help prevent premature aging and maintain a youthful complexion.
• + 1 FREE bonus set of Sparkling DIY Facial

Bundle value: $286.00
Limited time offer: $186.00
Step 1: After cleansing, apply the Dual Moisture Emulsion to your face. Gently massage it using upward motions to effectively hydrate & nourish your skin.
Step 2: Apply Retinol Vit. A,C+E Serum evenly over your clean face. This serum is packed with antioxidants & blemish-fighting properties for firmer, smoother, & clearer skin.
Step 3: After the Retinol Serum, generously apply the Retinol Renewal Cream. This nourishing cream hydrates refines texture, and reduces fine lines & wrinkles.
Total 5 star reviews: 58
Total 4 star reviews: 3
Total 3 star reviews: 0
Total 2 star reviews: 0
Total 1 star reviews: 0
100%
would recommend these products
Reviewing

Dual Moisture Emulsion - Travel Size

Amazing product!

So happy I switched to this moisturizer, I bought the travel size because I wanted the pump. The consistency is more viscose gel than cream and it hydrates better than anything I've tried. Absorbs into the skin so quickly and leaves my face and neck plump and hydrated all day long, no more dry patches!

LS

LING Skincare

1 week ago

It's great that you've found a product with a consistency that suits your preferences, and the fact that it hydrates so effectively is a big win. 💙

Andie M.

Verified Reviewer

Reviewing

Retinol Renewal - Clear & Youthful Moisturizing Cream

The best retinol cream!

This cream is ultra-hydrating and leaves my skin feeling so soft and smooth. It's helped minimize the appearance of fine lines and my complexion looks more even. Love the luxurious feel and the visible difference it's making!

MJ

Ma. Josephine L.

Verified Reviewer

Reviewing

Dual Moisture Emulsion (Advanced Anti-Aging Hydrator)

Holy grail of HYDRATION!

I've been using it for a year now and I still can't get enough of how hydrated and moisturized my skin gets throughout the day!

Maria M.

Verified Reviewer

Reviewing

Dual Moisture Emulsion (Advanced Anti-Aging Hydrator)

My skin loves it!

My skin feels so soft and moisturized every time I use this product. I don't feel and look old thanks to this, even my friends say I don't look like I'm in my 60s! You should try this!

April M.

Verified Reviewer

Reviewing

Retinol Renewal - Clear & Youthful Moisturizing Cream

A MUST HAVE

This is by far the best retinol cream I have ever tried in my entire life! I love skincare and I always try new products to really find the perfect one for my skin. And let me tell you, by far, THIS IS THE BEST.I just wish they have a bigger size! This is my 3rd purchase! I recommend you to try this one out. You'll thank me later!!!!!
Reviews Loaded
Reviews Added