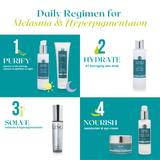 Melasma/Hyperpigmentation Daily Regimen
Melasma is a common pigmentation disorder that causes brown or gray patches to appear on the skin. It appears as flat patches or freckle-like spots and it's very common in pregnant women. While Hyperpigmentation is a skin condition in which the skin is discolored or darkened due to an array of factors, such as sun damage, acne scarring, and inflammations from an eczema flare-up.
Here are Ling Chan's hand-picked skincare items that are perfect to address these issues by following her 5 Simple Steps!
Purifying Cleanser (cleanse - morning) this mild facial cleanser is best for dry skin
Purifying + Triple Action Exfoliator (cleanse & exfoliate - evening) cleanse and exfoliate using this scrub formulated with tiny particles to help gently buff away dead skin cells from your skin, revealing brighter skin underneath.
Dual Moisture Emulsion is great to help revive and refresh skin, especially since it includes ingredients like Hyaluronic Acid (to lock in moisture into the skin), Ginseng (to improve skin's elasticity) and Squalane (to keep skin clear and healthy).
Triple Clearlight Serum protects the skin against environmental damage and lightens dark patches. It is formulated with Nonapeptide-1, Rumex extract & Alpha Arbutin which helps with hyperpigmentation and work to further brighten and even out skin.
Oxygen Plasma Glow Lotion is an advanced reviving lightweight face lotion to instantly revive & refresh the skin to promote a glowing, healthy complexion + finish it off with Eye & Lip Soothe Cream that has blends of herbal extracts and caffeine to give a firming effect to the eye area + Sunscreen (in the morning if going out ) sunscreen is, hands down, the most crucial skin-care product. It's "of utmost importance as part of your year-round regimen".
Bundle includes:
Purifying Cleanser (morning)- $58.00

Triple Action Exfoliator (evening) - $60.00
Dual Moisture Emulsion - $88.00
Triple Clearlight Serum - $135.00
Oxygen Plasma Lotion - $65.00
Eye & Lip Soothe Cream - $72.00