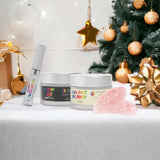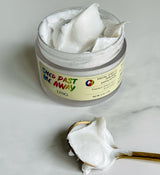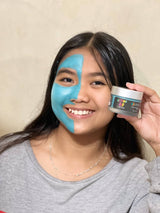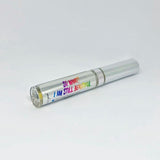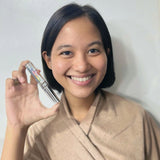 Ling's Bye-Bye Acne Facial Treatment (+ FREE Gua Sha)
Everyone deserves beautiful, glowing skin they can feel confident in! Straight from NYC, here is LING's Signature Bye-Bye Acne Facial Treatment! 
This customized facial treatment is to give skin that clearer, brighter, and glowing complexion! Perfect for gifting for dry, dull, and acneic complexion!
WHAT'S INCLUDED?
1x SHED PAST ME AWAY to exfoliate dead and unhealthy skin cells, unclog pores and smooth skin texture
1x LETTING GO DETOX MASK

 to detox impurities and excess sebum trapped in pores

1x SO WHAT I'M STILL BEAUTIFUL  to clear acneic blemishes by retexturing the skin and reducing excess oil
Limited Edition Rose Quartz Gua Sha (FREE)
a tool that relieves facial and jaw tension, promotes a brighter complexion, and instantly lifts and contours the face. Rose Quartz is known for its calming properties, reflection, and self-love

Original Price: $293.00
Discounted price: $93.00
💡Did you know that this treatment is based & used directly in LING Spa's in New York City and across 5-star spas & resorts all over the world? How lucky are we that we can now do it at home!
Step 1: Exfoliate your face with the Papaya Dead Skin Exfoliator "Shed Past Me Away" Apply to the skin for deep exfoliation. Leave on the face for at least 3 minutes and then massage in small circular motions. Rinse off with tepid water.
Step 2: Apply the Volclayno Detox Mask "Letting Go" to the entire face and let dry for at least 10 minutes. Rinse off with warm water. 
Step 3: Follow up with our Pimple Spot Clearer "So What, I Am Still Beautiful". Dip dropper to bottom of sediment and apply to area of concern.
Total 5 star reviews: 6
Total 4 star reviews: 0
Total 3 star reviews: 0
Total 2 star reviews: 0
Total 1 star reviews: 0
100%
would recommend these products
Reviewing

Papaya Dead Skin Exfoliator "Shed Past Me Away"

Love this stuff!

Trust me when I say this, this is going to be your new go to product. I thought I was impressed from the packaging, but after using the product I was shocked. My skin has a hard time with uneven skin tones and looking dull. First I washed my face with warm water to open up on my pores. I then rubbed it carefully and cover my full face. I woke up and my face tone seemed a lot more even and smooth. 10/10 would recommend.

Reviewing

Volclayno Detox Mask "Letting Go"

Gentle on your skin!

First time detox mask buyer and user. I was hesitant - but shouldn't have been! I have super sensitive skin, and my breakouts have been significantly worse as a result of wearing a facemask for 8+ hrs/day. My acne is typically mild, but my chin has been incredibly broken out from the facemask. I've only used this Volclayno Detox Mask twice now and I've already noticed a big difference! My face is less oily, my skin is much smoother, and my mask acne is **** near nonexistent already! I've used it once/week since I received it. I recommend putting on two layers for easier peeling later. Doesn't hurt to peel at all, and the included applicator makes it very easy to apply. Super pleased with this product and quick results.

Reviewing

Volclayno Detox Mask "Letting Go"

Entirely worth the money.

I have already used several black mask before, still a little sensitive skin and I worried about putting a new product on my face. But this mask is Right and Gentle. This product has a blackhead remover. I've used this black mask couple of months, the mask dries relatively fast so no waiting around. It peels off smoothly without ripping. The adhesion is strong but not painful so it does the job without the irritation. Didn't hurt or leave my skin with any redness. It did take a little over 20 minutes, but after I peeled it off my skin felt nice and I was able to see the gunk from my pores on the mask so satisfying. It is such a great use in cleansing out pores. I definitely purchase this again. It is such a great product with amazing results! After using it, it left my face and skin feel super smooth and softer than my face before. Pretty amazing!!

Reviewing

Pimple Spot Clearer "So What, I Am Still Beautiful"

dries up acne

I get hormonal breakouts and they are the worst kind, red and inflamed. sometimes even hurts to the touch. I try to use this product when I feel a pimple forming, but sometimes its too late and the pimple is already there. I dab this on at night before going to bed and it dries up my pimples and makes them easier to cover with makeup

Reviewing

Volclayno Detox Mask "Letting Go"

Great for daily use!

This product is really doing great things for me. I've managed to find some kind of facial product that helps fix almost every known issue I've got. Most recently, I was super happy to finally find products that both tighten my skin and shrink my pores. Problem is, I have some GIANT pores, particularly on my nose. So, unless I can find a detox mask or something to get all the gunk out of there, I'm stuck with them.

The first time I tried this Volclayno Detox Mask, I used just enough to coat the problem areas of my face, like my nose, right between my eyebrows and my chin. Then, I followed the instructions and let it stay for a fair amount of time on my face. That was the secret, at least for me. I did this daily for a week straight and REALLY noticed that my pores were clearing out. Combined with pore-shrinking and skin tightening products, I feel like I've finally got a handle on the giant pores that have driven me crazy for most of my adult life. The product name says it all. Letting Go! Letting Go of all the bad times with other products!
Reviews Loaded
Reviews Added