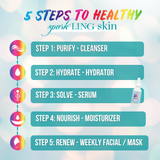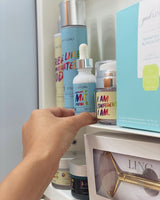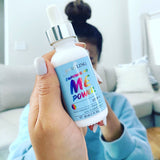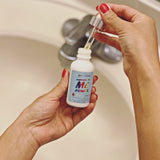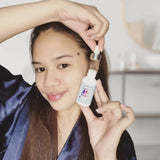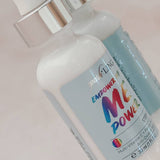 Multi Vitamin C + Ferulic Acid (Anti-oxidant Serum) "Empower My Me Power"
Advanced anti-oxidant blend of Vitamin A, B, C & E and ferulic acid works to prevent free radical damage while rejuvenating, anti-aging and brightening complexion.
Skin care confidence: Knowing the largest organ has the remarkable natural power to heal & protect, revive with a potent blend of vitamins and plant extracts providing anti-oxidants to stimulate rejuvenation & reveal our healthiest complexion
Cultivate your inner spa: We must know we possess remarkable powers inside. Do what we can, the best we can. We must believe we can. Self-belief is the biggest protection against damaging environmental factors and negative self talk. Claim your authentic powers, claim your throne, channel your superheroine or superhero that resides within you. You are a diamond being found. This is the key to full confidence. 
30 ML / 1 FL OZ

Key Ingredients:
Ascorbic Acid (Vitamin C) helps the skin to, reduces wrinkles, protects collagen and increases production, aids wound healing, helps protect against sun damage, reduces hyperpigmentation, evens skin tone, brightens complexion, acts like armor against pollution and other free radicals. It also helps maintain the collagen you do have and protects the precious protein from damage.
Ferulic Acid, is a powerful antioxidant that neutralizes free-radical damage from pollution, ultraviolet light, or infrared radiation, all of which accelerate skin aging.
Glycerin acts as a humectant, which is a substance that allows the skin to retain moisture. It can increase skin hydration, relieve dryness, and refresh the skin's surface. It's also an emollient, which means it can soften skin.
Tocopherol also known as Vitamin E is known for its antioxidant properties. Antioxidants help to protect your body from damaging compounds called free radicals. Normally, free radicals form when your body converts food into energy. However, free radicals can also come from UV light, cigarette smoke, and air pollution.
Ingredients:
Water (Aqua), Ethoxydiglycol, Ascorbic Acid, Propylene Glycol, Glycerin, Laureth-23, Triethanolamine, Tocopherol, Ferulic Acid, Panthenol, Sodium Hyaluronate, Sodium PCA, Niacinamide, Phenoxyethanol, Ethylhexylglycerin.
Directions:
 Apply a small amount directly to skin with hands in gentle, upward motions. Apply after hydrating day and night. Recommended for all skin types.
Total 5 star reviews: 2
Total 4 star reviews: 0
Total 3 star reviews: 0
Total 2 star reviews: 0
Total 1 star reviews: 0
100%
would recommend this product
SAVED MY SKIN!!!

This product saved my skin! I seldom write reviews but just had to review this product. I've been struggling with acne for YEARS. I have very acne-prone skin. I get a new pimple almost every day and it seemed like there was never a time I didn't have a pimple on my face. Acne leaves super dark blemishes/scars on my face. I do believe my acne is partly genetic - another reason may be stress from college and not getting enough sleep. I've tried all different types of moisturizers and cleansers. Nothing worked. However I bought this Anti-oxidant Serum on a whim. Omgggg. Guys. Literally my face stopped flaring within 3 days. I was PIMPLE FREE FOR MORE THAN 48 hours (a new record). In the photo, the left side was day 1 of applying serum. As you can see I had extremely dark blemishes and active pimples. The photo to the right shows my skin exactly 2 months later. Blemishes have faded DRASTICALLY and I have no active breakouts. This hasn't happened in years. I truly and honestly think it is due to this product. It really EMPOWERED MY ME POWER! If you are hesitant, don't be, BUY IT!

Amazing results in a week!

I bought this product about a month ago and I use it at least once a day, sometimes twice. I started noticing a difference in my skin within a week! For the record, I have terrible skin. It's red, blotchy, uneven, and on top of that I would get terrible breakouts. I chose to post some before and after pictures because even though my skin is still not perfect this product has helped A LOT! It helped reduce the redness of my breakouts within a few days of using it and I'm convinced that it has also helped prevent more breakouts. This past month I've only had about 2 bad pimples (which is great for me since I used to get a new pimple every couple of days) but other than that my face has been doing great!
Reviews Loaded
Reviews Added