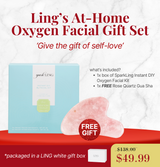 Ling's At-Home Oxygen Facial Gift Set (+ FREE Gua Sha)
Give the gift of Self-love!
Indulge in the luxury of radiant skin this holiday season with Ling's At-Home Oxygen Facial Gift Set. Your ticket to a 5-star spa-inspired experience has never been this easy! Save money, save time. It's all you need to treat yourself or your loved ones to a luxury holiday self love glow!
WHAT'S INCLUDED?

1 Box of SPARKLING INSTANT DIY FACIAL KIT (10 SETS)

Step 1: Instant Peeling Pad to Exfoliate & Detox
Step 2: Instant Oxygen Mask to Brighten & Rejuvenate

Limited Edition Rose Quartz Gua Sha (FREE) is a tool that relieves facial and jaw tension, promotes a brighter complexion, and instantly lifts and contours the face. Rose Quartz is known for its calming properties, reflection, and self-love.
Original Price: $138.00
Discounted price: $49.99
Step 1: Instant Peeling Pad: Slip your fingers into the sleeve of the cotton pad. Apply the pad to the surface of the skin using gentle, circular motions all over the dry face and upward motions on the neck. Turn the peel pad around and apply it to any areas requiring any exfoliation. Pan can be applied to hands and decollete area. For sensitive skin, leave a peel on for 1-2 minutes. For normal skin or breakout-prone skin, leave the peel on for 3-5 minutes. If excessive irritation occurs, rinse off immediately. Rinse peel thoroughly off the skin with cold water or remove thoroughly with a wet washcloth to prepare the skin for step 2.
Step 2: Instant Oxygen Mask: Gently open the Oxygen Mask sachet. Squeeze out the gel and apply it directly to clean skin. Do not rub after applying. Leave the mask on for at least 3-5 minutes or as long as possible for the oxygenating bubble process to finish.
Step 3: Once the bubbles are formed, roll the Rose Quartz Gemstone Roller starting from the center of your neck, rolling upwards and outwards. Continue this motion on each section of your face. Wipe off with a washcloth and/or rinse with cold water. 
Total 5 star reviews: 32
Total 4 star reviews: 2
Total 3 star reviews: 0
Total 2 star reviews: 0
Total 1 star reviews: 0
100%
would recommend these products
AB

Alicia B.

Verified Reviewer

Reviewing

SparkLing Instant DIY O2 Facial Kit

Easiest and most effective facial I have ever bought!

This product saved my skin! I usually go to the spa to get my monthly facial but thanks to this facial kit, not only do I get an instant at-home spa experience but I can now afford an oxygen facial! This is very rare and you can't find something like this in the market. Plus, it comes with 10 sets so it's a win-win! I can use it for months! Worth every penny!

RC

Rosie C.

Verified Reviewer

Reviewing

SparkLing Instant DIY O2 Facial Kit

A complete skin make over!

Super in loooove with this facial kit! You can't find anything like this in the market. I use it weekly so 1 box lasted 10 weeks!! If you want glowing spa level skin & don't want to spend hundreds, you need to get this.

Maria Anne J.

Verified Reviewer

Reviewing

SparkLing Instant DIY O2 Facial Kit

My very own at home spa!!!

I am so thankful that Ling Skin Care came up with this product! ❤ Now I can have my very own spa at home. Usually other products will give you days/weeks before you notice any changes but after using this for just one time, my skin is so soft, fresh and glowing like I've booked a spa appointment! Did I mention that it's only for $80?! I love it!!!

Tanya M.

Verified Reviewer

Reviewing

SparkLing Instant DIY O2 Facial Kit

UNBELIEVABLE RESULTS!!!

I've been waiting for this ever since I saw a sneak-peak on Instagram that it will be available soon. Now it's here!!! I bought this the first day it launched and it came to me only after 3 days!! I used it right away because it's been months that I haven't visited the spa to do my facial and I can't believe it, it really does give you professional results after one use! My skin is glowing and rejuvenated! And I'm still left with 9 more sets!! This box has 10 use!!! 5/5 for product + shipping!!!! I might buy again with the Ling gift box for me to send to my family this Christmas!

Reviewing

SparkLing Instant DIY O2 Facial Kit

Only used once but looks good.

I have only used once since I got it, but the first time felt good - no tingling. Will have to try again to see a difference if any.

LS

LING Skincare

2 months ago

It's great to hear that your first experience was positive. Keep trying and see how it goes. If you have any more experiences or observations, we'd be curious to hear about them!💙
Reviews Loaded
Reviews Added